Can you guess what works against bed bugs then?
Before you find out the answers, pls also read the disclaimer and information presented here before trying out this method that works in my case.
This solution is strictly NOT meant for people with health problems or allergies to chemical. Only try this solution when you have no way out.
The most effective solution against bed bugs is none other than THINNER! I am not joking, thinner really works on killing bed bugs. Test it on any bed bugs and you can see them 'melting' away.
We discovered the use thinner by chance when my dad dripped some drops of thinners onto his working bag where the bed bugs are hiding, they died immediately.
We reckon its the corrosive nature of thinner that can dissolve the 'armoured' bodies of bed bugs and the smell of thinner is also quite strong for the bedbug.
Thankfully, using this method of spraying thinners you will see results within 3 to 5 days. The bed bugs will no longer able to survive in any of your rooms.

We only spray around the suspected areas like bed seams, floor, etc. The bed bugs will be gone in a short time. Even though you have to bear & endure with the smell of thinner, its still worth the effort as compared to using insecticides and other expensive methods that may / may not work. Save time and money $ !
After you have solved your BB problem, try your best to avoid going to homes that are have this problems. You know what I mean?
Avoid places where there are many people staying in the home. Check the home before you decide to stay long at the home, especially look out for any crawling insects & back stains on sofas, floor & walls.
Pls read the below notes before you begin using thinner.

= CAUTION =

Do not spray thinner onto your painted walls as thinner can strip off your wall paint.
Avoid spraying thinner onto your electronic devices like radio, clocks, mobile phones, pc, laptop etc. Your electronic devices will be damaged if you choose to spray thinner on them.
Bear in mind that you have to wear hand-gloves and personal protective gears such as mouth mask, goggles/spectaces to prevent fainting, vomiting, fluid getting into the eyes and any uncomfort that may arise.
Also be mindful that thinner is flammable and can cause fire if not use properly or when there are fire sparks around. For safety reasons, do not light any fire when using thinner.
Pls do not spray thinner when your children, pets or any living things are around or when you are about to sleep. The smell of thinner will usually be evaporated within half an hour if the room is well ventilated.
* DISCLAIMER *
The webmaster of this webpage must not be held responsibe for any problems that may arise from using thinner.
The use of thinner will be done at your own risk.
Those of you with health risks should consult your doctor before doing so.
If you are left with no choice, you can also engage a reliable local pest-buster to do the job. Costs of fumigation should be around SGD$300-$400, job turn-around time=7 to 10 days. The price should also include 2 rounds of fumigations. Guarantee period is after they come for the second fumigation. Pls liase with your pest busters.
The above recommendation of using thinner against bedbugs is based on the positive outcome/results that arised from the experience of the webmasters' long battle against bedbugs which happened from period Dec 2008 to Dec 2009 (~1 year).
I do not recommand any particular brand of thinner, the picture below is for illustration only. Its up to you to choose your brand of thinner but don't buy the cheap type which smell very strong & badly. Buy the more costly one should not cost you more than $7 per bottle , picture as below.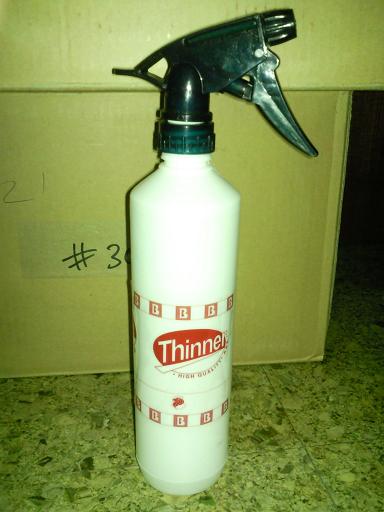 Back to TOP